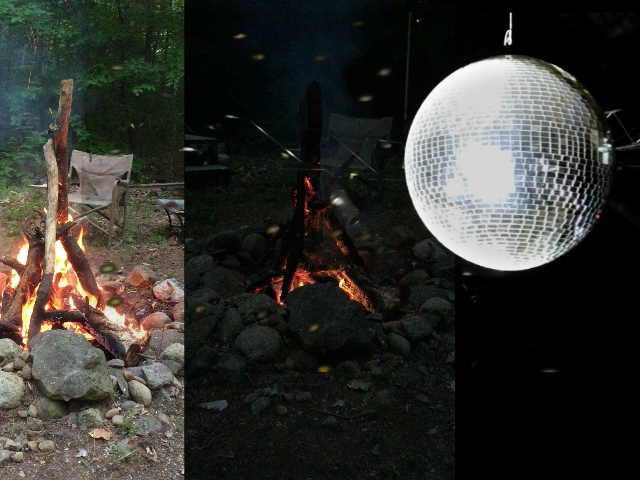 DISCO FIRE
IT STARTS WITH WOOD AND ENERGY IS ADDED,NATURE BURNS. DARKNESS FALLS AND THE FIRE RAGES. WHILE FAR AWAY A DISCO BALL COMPETES FOR THE LIGHT IN THE NIGHT.
Open call: 1 second movies | One-Off Moving Image Festival 2019

Noemata (http://noemata.net) is excited to invite artists and film-makers to participate
in this second edition of One-Off Moving Image Festival!
We're looking for 1 SECOND MOVING IMAGES on the theme of humans vs. nature.

All movies will be screened during the festival February 18-24, 2019 in
public spaces in Valencia(ES) and Gol(Norway) in addition to the net.

We're also collaborating with 60Seconds Festival (http://60sec.org)
in Copenhagen(DK) taking place in parallel, to screen a selection of the
1 sec movies mixed with 1 minute movies in Copenhagen, Frederiksberg, Køge
and Helsingør during the festival week.

In addition, all 1 second movies will be included in the next Leap Second Festival
(http://noemata.net/leapsec27), an irregular x-ennale lasting one second.


Deadline for participation: February 1, 2019.

The movies should be
- 1 second short
- original material
- no credits
- about human vs nature
- 4x3 aspect ratio, mp4/gif formats (web-compatible)

Submission and contact address: one-off@noemata.net


Be sure to also check out 60Seconds Festival's open call
(http://60sec.org/participate.html for 1 minute movies!


Theme for the 2019 festival: HUMAN versus NATURE
Key words / concepts: #Natural capital, #environment, #we are nature,
#global goals, #climate change, global warming, #biodiversity.

One-Off invites all artists and video creators to submit their 1 second
videos that explore human interaction with nature and our environment.
Is our species detached completely from being part of nature? Are we
becoming a lethal threat to the natural environment as the dominant
species? What is the value of the Natural Capital?


About One-Off Moving Image festival

One-Off Moving Image Festival is collaborating with 60Seconds Festival
for call, theme, movies and screenings, and both festivals run in
parallel February 18-24 (Monday-Sunday) 2019. We'll be sharing the works
so the screenings will be a mix of 1 minute and 1 second movies.
One-Off will focus on virtual screenings using QR-codes, local
wifi-hotspots for people to engage with their smart devices, while 60Secs
will make physical screenings using projectors. We both use public space
as plattform for the screenings.

One-Off is an offspring of the Leap Second Festival, an x-ennale lasting
one second (three former editions 2012, 2015, 2016/2017). Since the leap
seconds are inserted into clock-time irregularly we wanted in addition
to have a yearly festival of one second movies, also to be able to run
in parallel with 60Secs festival. 60Secs on their side has more than ten
years of experience in organizing screenings of short movies in public
(streets, walls, metro).

In autumn 2017 Leap Second Festival and 60Secs collaborated on six
screenings in europe consisting of movies from both, with the practise
of mixing short and ultra-short movies. More info http://noemata.net/5455).
This in turn lead up to the establishment of the One-Off festival.

Web: http://noemata.net/one-off/
First edition 2018: http://noemata.net/one-off/2018/

Please forward and share the call
fb event (https://www.facebook.com/events/2191230127799591/)


One-Off Moving Festival is supported by Arts Council Norway.